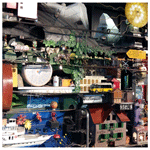 La Suisse en miniatures dans deux affiches (1942/2019) : Quelles visées touristique et politique ?
University of Lausanne, Interdisciplinary Centre for Mountain Research, Lausanne, Switzerland
Received: 02 Apr 2020 – Revised: 23 Oct 2020 – Accepted: 28 Oct 2020 – Published: 17 Nov 2020
Abstract. This article shows how two Swiss posters represent a certain representation of the Swiss territory, appropriate to the messages they try to convey. The first one dates from 1942 and invites tourists to stay in the Pays-d'Enhaut (canton of Vaud). The second encourages the Swiss electorate to vote for the Vert'libéral political party in 2019. Through a qualitative approach, we show that the choice of representations, a set of miniatures and sketches, is not neutral. In the light of historical, tourism and political contexts of poster production, the paper decrypts an imagery of a Switzerland for urban dwellers, green for its nature, white for its inhabitants. In both cases, Switzerland is always an island that chooses its images.